Can you believe it's November already? Heather here, excited to share our challenge for November. It is inspired by one of my favorite artists, Gustav Klimt.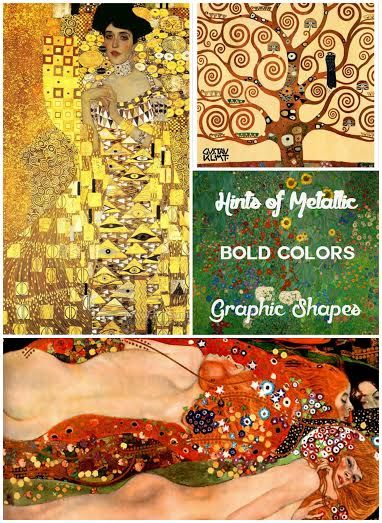 Many have been introduced to his work through his painting entitled The Kiss, including me. I was immediately drawn into the intimacy of the subject as well as his incredibly detailed painting style. Upon studying his work further, I realized that there were some reliable consistencies in his work– his lavish use of metallics, the bold jewel tones, and his use of repeated graphic shapes such as triangles and stars to draw the viewer's eye around the painting.
This month, I would like to challenge you to use at least TWO of these elements in your entry. And remember, your project can be absolutely anything– journal page, altered art, sculpture, cards, layouts– whatever you feel inspired to create!
This month's prize is a juicy pack of assorted Punchinella. Who can resist that? Perfect for masks, stencils and layering of all sorts.
To enter, please submit your project HERE by November 30th. The winner will be announced on December 10th! In the meantime, please stop by often to see what exciting projects our Alchemists have come up with.
Happy creating, friends!
You can make ANYTHING you want, layouts, cards, ATCs, altered art, art journaling, tags, ANYTHING that's inspired by our challenges. You can use the whole theme, a texture, color scheme, anything that inspires you, go make something and then share it with us! – See more at: http://www.gauchealchemy.com/2014/08/01/frida-kahlo-challenge-mixed-media-scrapbooking/#sthash.G6GNtnC6.dpuf
You can make ANYTHING you want, layouts, cards, ATCs, altered art, art journaling, tags, ANYTHING that's inspired by our challenges. You can use the whole theme, a texture, color scheme, anything that inspires you, go make something and then share it with us! – See more at: http://www.gauchealchemy.com/2014/08/01/frida-kahlo-challenge-mixed-media-scrapbooking/#sthash.G6GNtnC6.dpuf