Hello, Creatives!! Rachel here. What a bitter sweet post this is for me… on so many levels!! Of course, the first being that this is my last post as an Alchemist this year. Another being that I *get* to relive my empty nest syndrome from my oldest's graduation. This year, a lot of kiddos that I consider my surrogate kids are graduating, and they'll be moving into adulthood. I'll see them so much less than I do now, and I'm a bit sad about that… As I was thinking about what to create this month, I decided to go with my card theme one last time, and create some graduation cards for a couple of those kids. I tried to create something a little more cheerful to help balance the melancholy feelings I have about all of them becoming grown ups.
I had a little fun with the play on words by writing Congratulations as conGRADulations. Original, I know, but I just can't stay away from punny fun!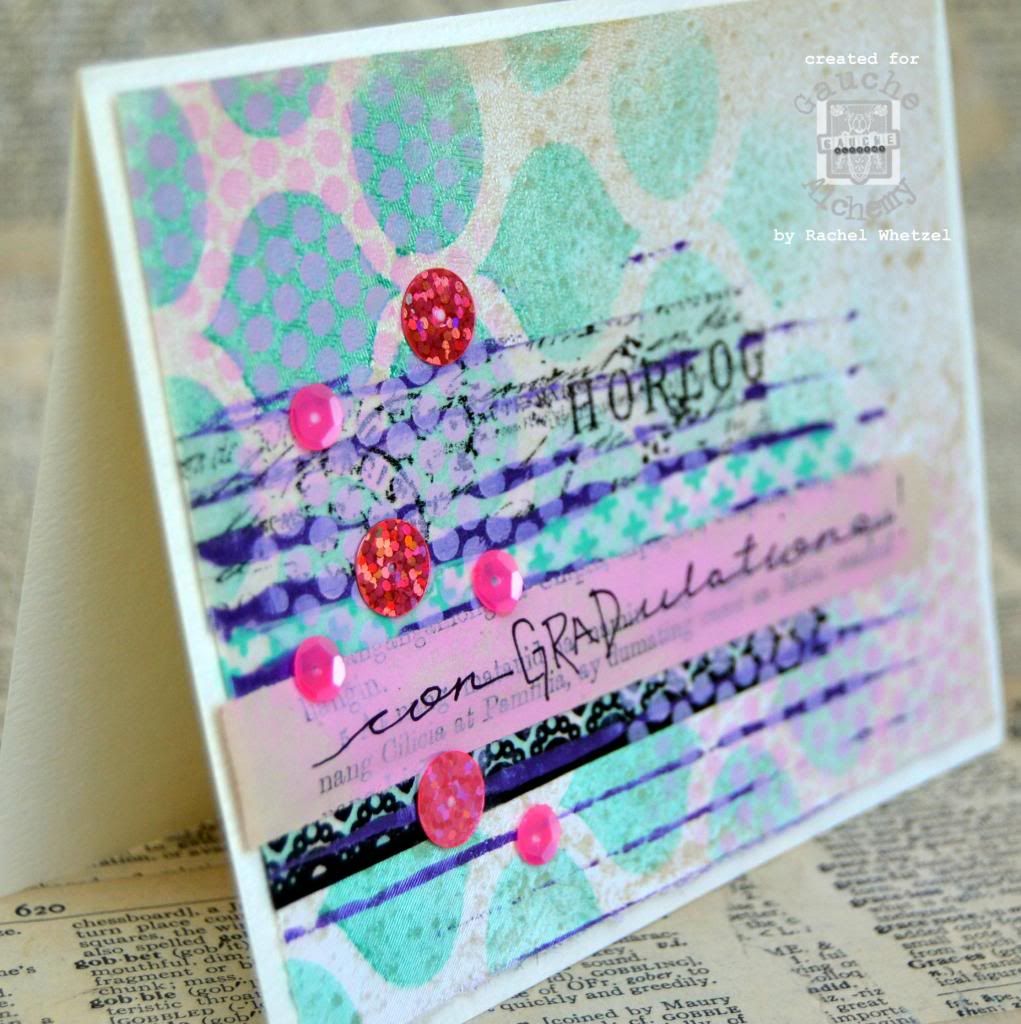 I made this card with some really beautifully textured creme colored wallpaper, a few strips of Washi tape, a Rhonda Palazzari stencil, some punchinella stencil, ouchless cardboard as a stamp, and some fun with pink sequins. I painted a bit of foreign text paper with the pink I used on the punchinella stencil, and then wrote "conGRADulations!" over the paint. So many fun bits from a variety of Gauche goodies in my stash, and I really love the way it came out. It's so fun to keep adding layers until you have things just so. Using my favorite cheery colors really DID help to lift my spirits too.
If you're making a card for a graduate in your life, remember that layers don't have to be bulky!! Mailing bulky cards can be tricky, so using paints and tapes is a great way to add layers without creating a mailing headache.
So that's it for me! This has been an excellent year, and I have enjoyed every moment of my time as an Alchemist. Let's not say goodbye with this post!! I would love to keep in touch with you and continue to share creatively! Visit me on MY BLOG, Follow me on INSTAGRAM, and like my artist' page on FACEBOOK! Join me in some creative challenges at Monday Mugshots and A Year in the Life of an Art Journal! I look forward to staying connected with you! ~rachel