Hello everyone! Alchemist Marilyn here with an art journal board book project. I decided to jump on the bandwagon and start an art journal. Of course, I couldn't do just a normal art journal, I had to do one in living color! Today I'll share with you the first two-page spread. This was more fun than a person should be allowed to have!
I started out with a basic children's board book that I covered in several coats of gesso. I wanted to cover up most of what was there (bright Sesame Street characters) and give myself a good base to start layering my background.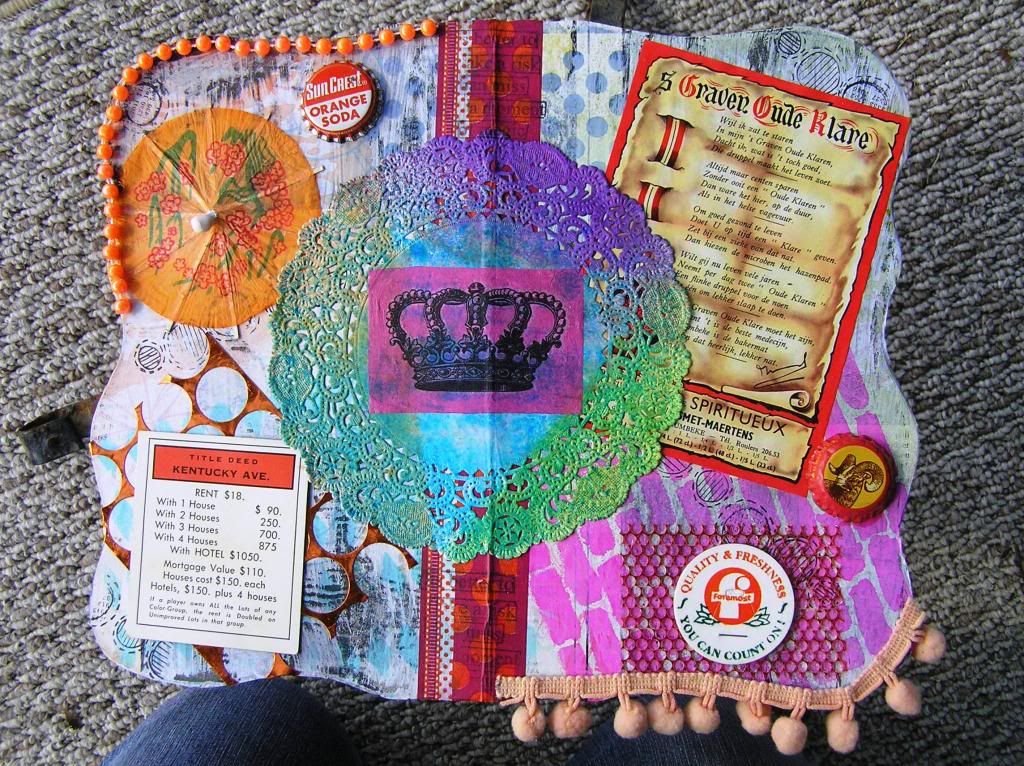 I grabbed my TCW Mini Zinnia and Harlequin stencils, Studio 490 Polka Dotty and Brick Wall Stencils, and my Dylusions Letter Jumble Stencils. These I sprayed with Dylusions Bubble Gum, Dirty Martini, and Squeezed Orange mists and Art Anthology Focus and London Blue Colorations. I then randomly stamped images from the Dylusions How Does Your Garden Grow and Around the Edge stamps sets using black Archival Ink and Victorian Velvet Distress Ink. These random jumble of items made up my background and now I was ready to start layering my embellishments. Oh, don't worry if you cover up some of your stamping or stenciling. That just happens. Go with the flow.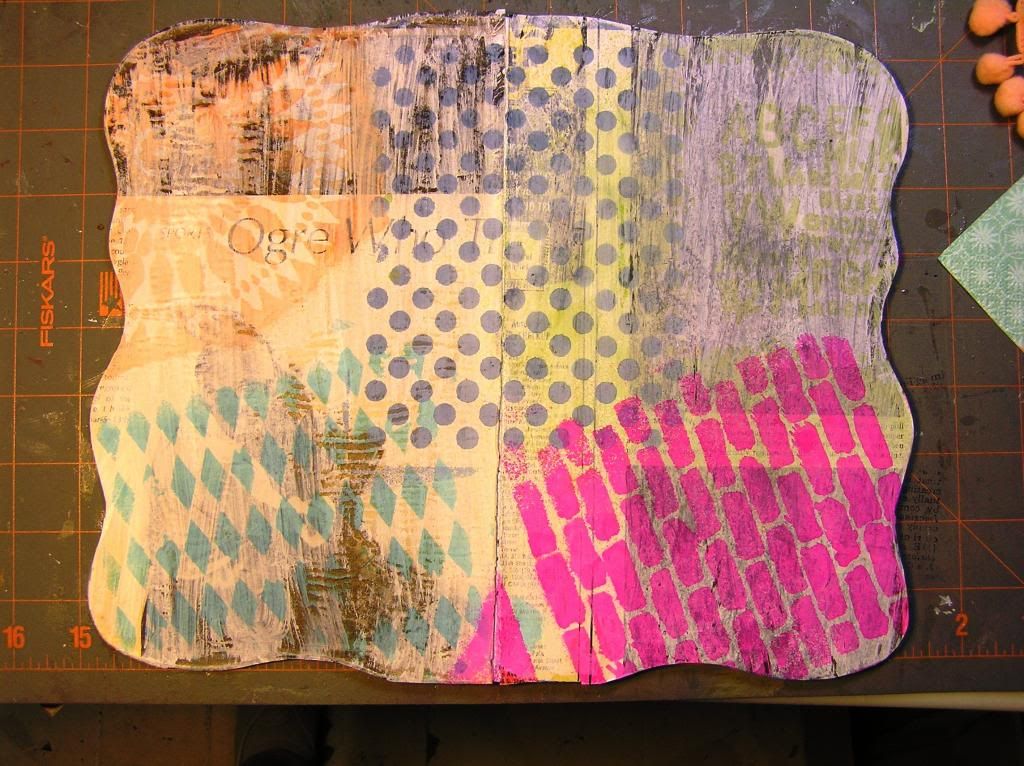 Deciding I needed a central focal point, I grabbed a paper doily and sprayed it with a combination of Art Anthology Colorations in Focus, London Blue and Crushed Grape followed by Dylusions Dirty Martini Mist. I cut out the central part of a paper napkin from the Napkin Art Kit and glued this to my doily with decoupage glue. Instant centerpiece. Also, before gluing this down to the center of the two pages, I ran a piece of washi tape down the middle. I was going for COLOR here!
Next I grabbed my Lady Marmalade Mixed Media Color Kit and started laying out my pieces. Once I was happy with where everything went, I glued them down. Yes, I mixed orange with pink. Remember, color, color, color was my aim. Some of the embellishments are chunky which will make the book thick, but I have plans for that. I'm not going to let a little thickness get in my way of a good time.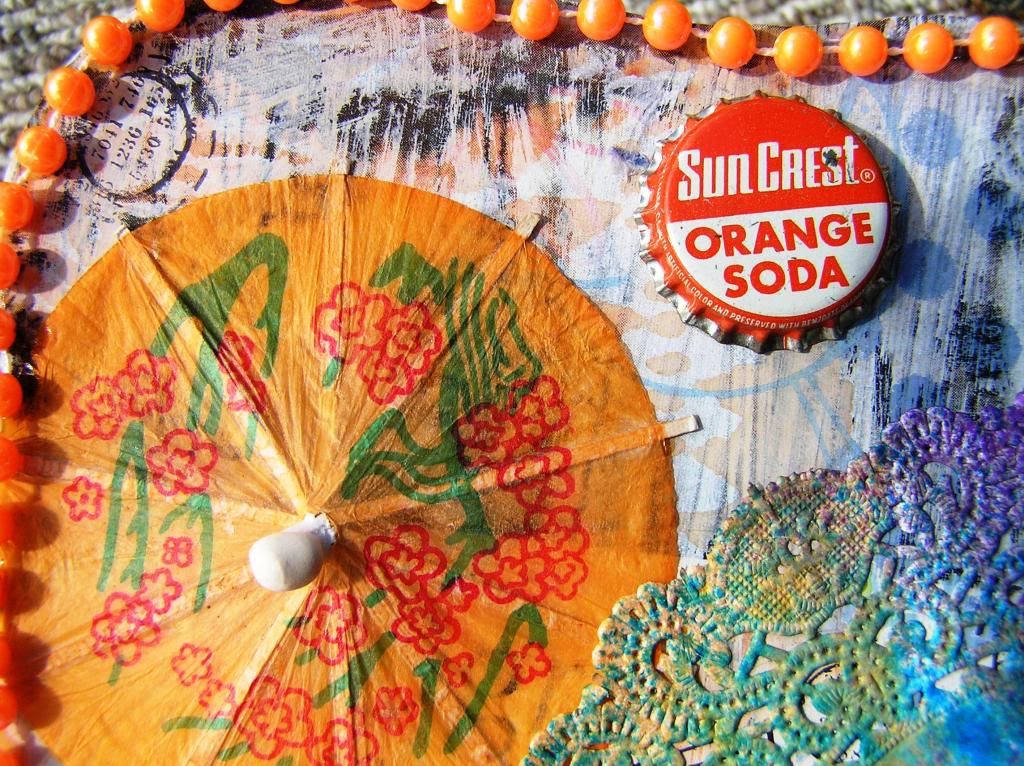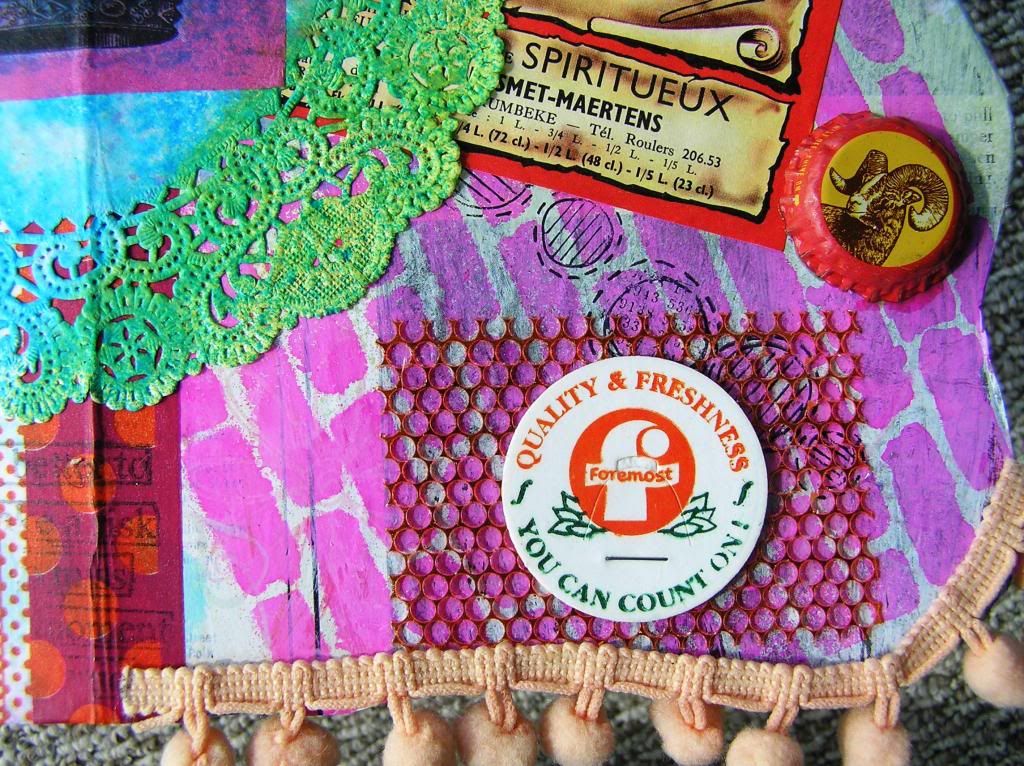 Now, go find you a board book (try your local thrift store), get some gesso, inks, your Gauche Alchemy Color Kits and get at it! Go make something fun!
Until later…………….
Smiles~
Marilyn