Posted on
February 22nd, 2013
by Maggi
Greetings and Salutations! Scraps, here, with an idea for reusing those Valentine's leftovers. Did you receive one of these this year?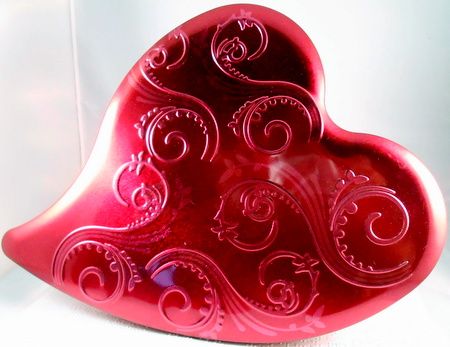 Or maybe you picked one up for yourself, on half-price candy day. Hey, no judgement here! I've been saving up my tins (and some of the box ones, too) for a couple years now, with the intention of doing something interesting with them. This year I finally did.
Now, instead of the ghosts of chocolates past, this tin contains a 29-page* album and holds 55 photos of my honey and I over the last 5 years!
To make the album I started with 4 large sheets of pink parchment-style paper and trimmed them down to a size as tall as the tin and twice as wide (in my case 18 inches x 10 inches). Then I gate-folded each sheet (folding the sheets so they meet in the middle, making a spine on each side) and used the insert from the tin as my pattern to cut out my shape. It's not exactly symmetrical, so I just made sure that the center seam was as straight as possible.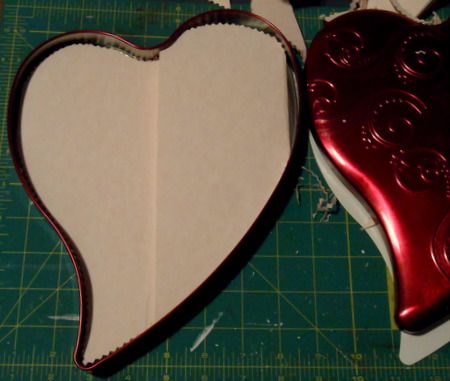 One the shape is cut out (I used pinking shears just to be different) it's important to make sure the book fits inside the tin. Trim as needed to get a fit that has a tiny bit of wiggle room so you can get the finished book out, easily, but don't trim away too much or you'll end up with teensy tiny pages.
Next I neatened up the edges of the folded-over pages and step-cut them each a quarter-inch shorter than the page below. It's all about creating the visual interest, and making you want to peek inside, right?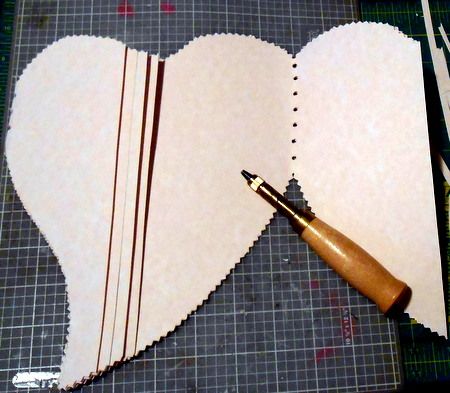 At this point it's important to bind the spines otherwise things could get messy. Punch some holes down the fold on each side, evenly spaced, and then thread some ribbon through them. I used a combo of pink satin ribbon, raffia, and curling ribbon, then tied them off in the center of each spine and trimmed them down.
Once bound, then you can cut through the first 3 layers of the paper spanning the back of the book (leave the last sheet intact to hold the 2 sides together–*this is, incidentally, where that odd-numbered 29th page comes in).
To sturdy things up a bit, I used the package insert to trace a heart shape out of chipboard (a leftover backing sheet from a stack of card stock) and then Mod Podged a napkin from the Paper Napkin kit onto the back. Glued it onto the back of my book and now I don't have to worry about it bending when I'm working with it or taking it out of the tin.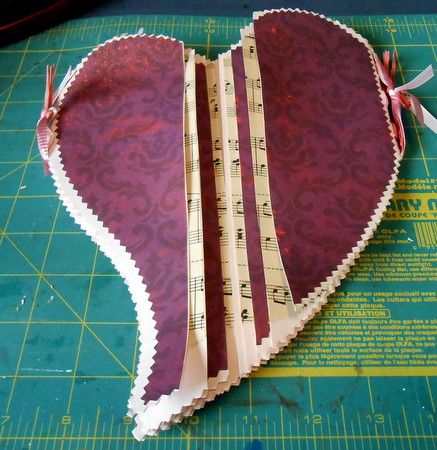 After that it's all about the decorating! I used some sheet music and printed paper leftover from the Dia De Los Muertos kit to decorate the front and the stepped edges of the book pages and then just tackled each set of pages as they came.
To get my pictures to right size to fit the album, I measured the front section and figured out that I could fit a business card-sized image, 3×2.5 inches, as a maximum. So, since all our photos are digital these days, I set up a template in Photoshop with 6 2″x3.5″ as well as some shorter and narrower sizes to maximize how much I could fit on a single 8×10 piece of photo paper. Each photo gets clipped to a square so they all print uniform sizes. Like I said, I printed 55 petite pics for this album–some needed additional trimming, others just creative placement, but it turned out really lucky to have the variety of sizes since the pages aren't straight rectangles. This was probably the longest step–going through 5 years of photos to find ones of us on trips or at events. But it was worth it!
Once those were trimmed, I just started adding them along with washi tape, patterned paper from my stash, and some stickers where appropriate. Outlines and journaling in black pen and it was practically finished! (Tip: if you want to use bumpy stuff in your album, stick down all your papers and photos first and then go back and add the dimensional items–this way you can press your photos down flat without getting wrinkles and bubbles from the stuff behind or underneath.)
The last thing I added was a set of tacks to the edges of the cover flaps and tied them closed with a length of pink ribbon. The ampersand I threaded through them is chipboard painted with Art Anthology Gelate in Red Velvet. You could certainly decorate the tin however you wanted (painted, distressed, punched tin–go wild!) but the great thing about this particular tin was that it didn't have any names or logos or stuff that needed covering, so I could leave it alone without it detracting from the finished project. I might go back and add some pearls or ribbon around the edges, but for now it can stay the way it is.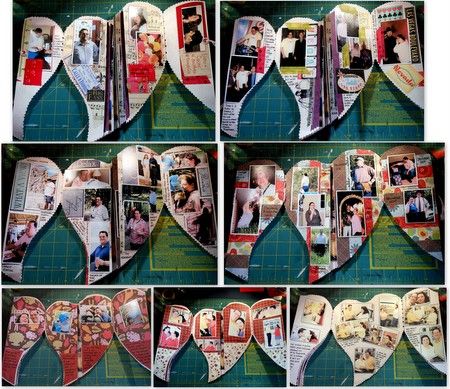 Happy Crafting!
~Scraps
Filed under: altered art, design team, diy, Mixed Media, Scrapbooking, tutorial