Posted on
January 25th, 2013
by Maggi
Greetings and Salutations! Scraps, here, with a banner I whipped up (and was nearly whipped by) just in time for my recent engagement shoot.
(Because the Wednesday before a Saturday appointment is the perfect time to start something like this, right?)
With 3 evenings to get this sucker done I started with the most important part: the letters. I'd treated myself to an eCraft die cutter after Christmas and was still learning how to use it but I figured a simple project like this couldn't be too tough. It turns out the n's in my name were quite problematic, ruining more than one (ahem, more than 5) set(s) of Todd's name in the process as the blade got hung up, miss-directed, and sliced through the already cut letters that were perfectly fine. It was (wo)man versus machine that first night, but I was eventually victorious!
Plain paper–even the speckled card stock I chose–just doesn't do much for me, though, and I decided some mists would be perfect for making them less cookie-cutter and more interesting (thank you Tattered Angel Glimmer Mists in Burlap and Gold for the top letters, and Art Anthology Colorations in Focus (found in our Shaken Not Stirred Kit) to darken up some of the shadow letters).
Thus ended night one of my banner odyssey.
Night two began with finding a grape leaf cutting file (for free, no less! via SVG Cuts) and had a much better time setting up and cutting out a bunch of the layered leaves and grape clusters to decorate my letters (though not without is–apparently grouping a row of shapes and copy/pasting them on subsequent lines translates to slice your way back to the top in eCraft-speak; yeah). After a good brushing with walnut ink, they were ready to layer up with the letters. Also, having gotten this far, I could safely decide how big my banner panels needed to be, so I made a pattern 5 inches wide and 5 1/2 inches long, with angled bottoms, and cut out some lightweight canvas from my sewing stash.
I layered up my leaves, letters and frames and plotted out the banner. Todd was okay with it as is but it just didn't look finished to me. It needed something…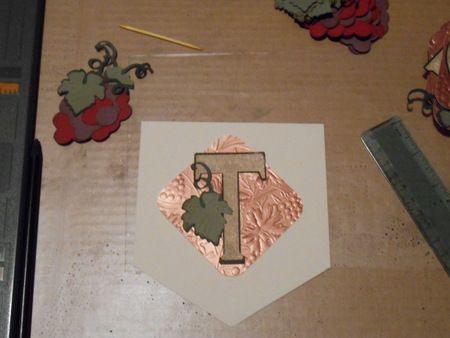 Enter some strips of lace (the wider pieces I cut in half to make them stretch and match the width of the skinnier brown and cream lace) and arranged them along the tops of each pennant. It was better, but not quite enough. It was getting late and I knew I wouldn't have time to do any sort of decorative stitching along the bottom edges, but I did have time to pull out the fabric markers and puffy paint to make a squiggly vine border wherever there wasn't lace. Then I took some metallic watercolors and added shimmery accents to the leaves and grape clusters. Finally close to satisfied, I did something I never thought I'd do: I glued the lace onto the pennants! The fact that the Helmar Premium Craft Glue really did a wonderful job with the fabric assuaged my sewist's guilt. Almost.
And since I had to leave things to dry again (and it was after midnight), I went to bed knowing I might actually get this bad boy done in time, and slept the sleep of the righteous last-minute crafter.
Friday night, amid pin-curling my hair and assembling the rest of our props, I set up another cutting file, this one of slightly larger rounded-corner squares, so that I could cut out black backings to make the copper K & Co background squares stand out a bit more from the lace and canvas. Slap it all together with more awesome Helmar glue, punch and set the grommets in each pennant so they'd stand up to the binder rings I was using to connect the pennants, and our last-minute banner was complete!
By that last set of cuts I'd totally figured my eCraft out, so I don't anticipate any trouble with the rest of my projects.
(*Knocks wood, just to be on the safe side.*)
Anyone else force a crash-course on themselves just to get a project done in record time?
~Scraps
Filed under: design team, diy, Mixed Media