Hi everyone! Maggi here with another project from this month's guest designer, Miae Rowe! Miae used our Dia de los Muertos Kit to create this fantastic altered canvas!
Hi everyone, Miae here with a festive canvas that I'm putting up for Dia de los Muertos!
I did some research about this holiday in preparation for working with this incredibly unique kit and one of the things I was inspired by was the use of marigolds on the altars to honor the deceased. It got me thinking yellow and other bright colors…
I started by covering a canvas with some yellow tissue paper (I hoard the stuff) and randomly stamping with the Day of the Dead background stamp.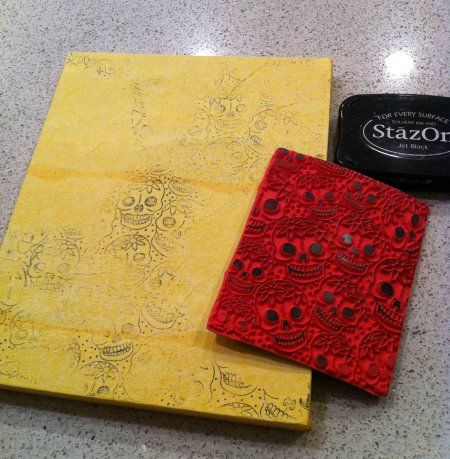 The washi tape from the kit has just the colors I was looking for! I put down many strips diagonally to create some movement to the background. I also sprayed the canvas and let the mists drip.
To create more texture and visual interest I took my Faber Castell gelato sticks and colored parts of the canvas blue over which I used the kit's Mexican Skull mask with molding paste.
I cut out the hearts from some of the wonderful ephemera paper in the kit and painted them red.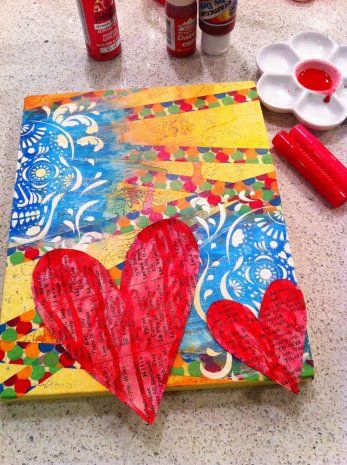 OK fast forward some steps and I've got my adorable little couple in the heart! I got the male/female symbol online (Symbolix font) and made their wedding attire from Braille paper (in the kit) and some black cardstock. I removed the symbol heads and replaced them with the stone skull beads. I coated them with a thick layer of heavy gel medium for emphasis and texture…boy did that take a long time to dry…..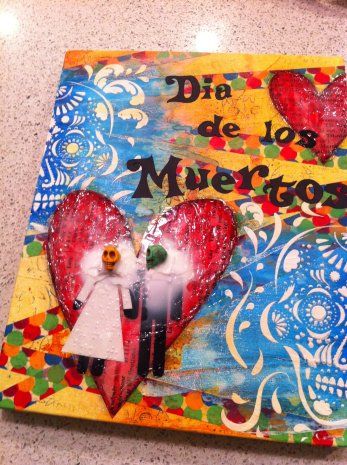 And when that heavy gel medium did finally dry, I added a thick coat of crackle paint over both the hearts.
Until next time…