Posted on
October 31st, 2012
by Maggi
Hi everyone! Maggi here with the last project from this month's guest designer, Patricia Roebuck!
Patricia: I had to use that awesome vintage metal film canister from the Money Shot Kit in some way. Ever since I got the kit, I would go to sleep, thinking how was I going to use it. What did I want to do? Decisions.
My first attempt, was to use a utility knife to cut a circle from it. It was too thick. Still not sure what I wanted to do, but decided to paint it with some Martha Stewart pearl paint. Love that stuff. Then I thought, I could have the top and bottom like a movie projector on a canvas. But didn't feel like I could pull that off and didn't have a big enough canvas.
Still not sure how I was going to use the canister, I went ahead and started adding texture by gluing down ripped pieces of vintage paper, the lace, photo corners, a tag from my stash, some of the mesh wire, negative photo ribbon all down on a small 8×8 canvas with gesso. Pulled out an old credit card and old cardboard circles from packaging to "stamp" into the gesso to create more texture.
Once it was dry, I pulled out some gelatos. I am hooked on the ombre effect (the graduation of colors from light to dark), and I love blue. So using a water brush, I spread the gelatos across the canvas.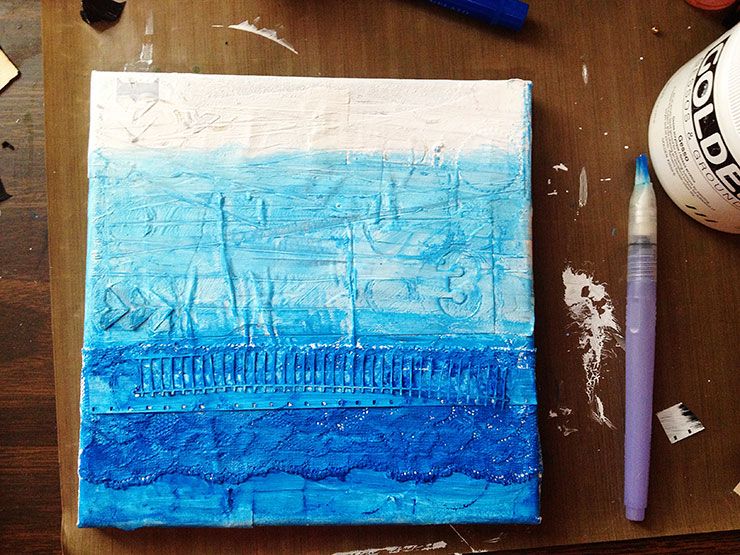 Now where to go? I really liked the metallic shiny look of the vintage canister against the blue. This is where that internal dialogue started to tell me, no that doesn't look good silly…do something else. But that shiny metallic canister and blue were so pretty together. I felt like to pull it off with the canister on top of the canvas, I needed some kind of repetition to ground it and make it look like it was supposed to be on the canvas. So I grabbed a circular stamp (since the canister is a circle, it was the perfect design, and I love circles) and stamped several times on some of the vintage papers, cut them out and adhered them. Then using my die cutting machine to add a little extra color and dimension, I cut out some flowers and layered some of the cut out stamps on top of those and…pop dotted them. Wasn't sure what I wanted to do for the center…an image, a word, another die cut? I spotted the paper bow in my stash, and loved the bright yellow with the black and white chevron…I felt like it went with the bold colors of the canvas already. Just added a button and twine in the center. But it still needed more and I hadn't glued anything down yet.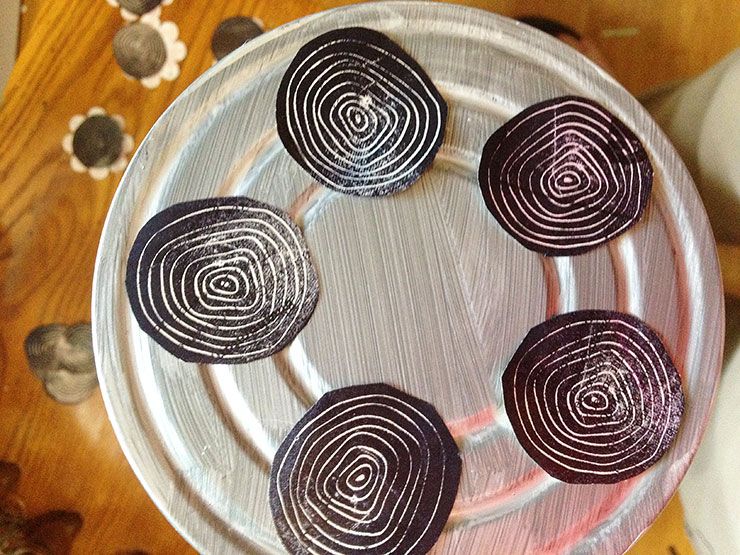 I love the whimsical look of wire on projects, it is one of my favorite things to play with. Then I had the idea of using the negative photo ribbon to loop around the canister. The Crop-A-Dile was able to punch a hole on the side of the canister, so now I new I was in business to alter it more. I kept punching holes around it.
I cut about 4 inches of wire, looped the negative photo ribbon so that you could see it from viewing it from the front, then slipped the ends of the wire into two holes, twisted, and cut the extra off. I kept going around and around like this. And after it was done, I just used some pliers to make sure the twisted wire ends were tucked under. Very sharp, so be careful doing this, I did cut myself. I adhered the entire canister onto the canvas with ZipDry.
Glued everything else down. Then the last few details I added were the small gold beads from the kit to the centers of some of the stamped images using gel medium. And I was really loving that metallic look, so added my last two silver photo corners to either side of the canister. Then I took a pencil and scribbled randomly over the canvas in areas…it's very subtle, but I like the way pencil on top of layers like this can give movement and texture without taking away from the design.
Thank you again, Gauche Alchemy, for having me guest. I enjoyed working with this kit so much.
And thank you Patricia for sharing your awesome projects with us! We'll have a brand new kit and a new guest designer to introduce you to soon! Until then…
Go glue something awesome onto some awesome something!
Maggi
Filed under: altered art, guest designer, Kits, Mixed Media