Hi everyone! Maggi here with more projects our Alchemists created for this exciting week of team swapping with the super awesome troop over at 100 Proof Press! 100 Proof Press specializes in funky, cool, awesome rubber stamps and our Alchemists went nuts over them…

All this week we're showing off our projects using their stamps and their fine team are sharing what they created with Gauche Alchemy what nots so be sure to hit us up here and stalk the 100 Proof Press blog for more projects than you can shake a glue stick at!
What's more, you can use the code: 100PROOFPRESS10 in the Gauche Alchemy store for 10% off all this week! (Excludes gift certificates and monthly kit subscriptions.)
First up is this awesome card from Amy!
I used the drum majorette stamp on white cardstock, colored with Copic Spica glitter pens (so sad you can't see the subtle shimmer in the photos!) and fussy cut it. They are attached with pop dots to make them all dimensional-like. The street is the cobble road stamp, but I used watered down acrylic paint instead of ink. The letters were made with foam stamps and acrylic paint, outlined with white paint pen. And the inside is, of course, our yellow starburst washi tape and I edged the card/made the heart with the same color acrylic paint used on the front.
Next up is Alchemist Jenn!
Ages ago I read that Ganesha was the opener of doors and remover of obstacles. When I saw 100 Proof's Ganesha stamp, I knew it would be perfect for a shrine. I was also fascinated by the shape of the Gears cluster, and wondered if I could combine the two, somehow.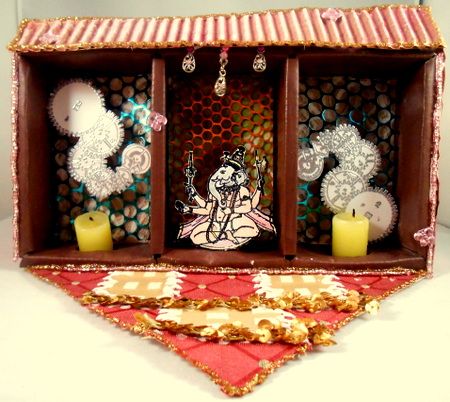 The body of the shrine is actually a box from a trio of tequila samples. I painted the outside of the box with white gesso and the inside and front with brown craft paint. After fitting patterned paper into the backs of the sections, I layered some lace in each of the outer wells, and then topped all 3 with strips of punchinella, trimmed to fit the width but a smidgen long to give the look of undulating sky.
Ganesha is embossed in black and then watercolored and mounted on a piece of a wine cork to bring him front and center. The gear images were embossed in silver and fussy-cut (not the most sane idea, but it does look awesome with all the notches cut out), and mounted with a few layers of foam tape to their respective sides, arranging them so they appeared to be cloud-like (I love the idea of gears pulling the rain away at Ganesha's command).
Inspired by the bright colors and rich textures of Indian textiles, I spritzed Ouchless Cardboard with pink and purple mists, sprayed them with silver glitter, then brushed more gesso over the ridges before gluing them onto the sides of the shrine. The "roof" was prepared similarly, but I let the peak fold how it wanted, which resulted in a sloping, undulating line that I outlined (along with everything else) in gold glitter glue. Finally, I pieced together a "rug" for in front of the shrine from fabric and trim from the Banana Hammock and Pink Parts mixed media color kits. Some crystal butterflies and strings of seed beads and this shrine was all done but the drying.
This was a ridiculous amount of fun!
Be sure to check us out tomorrow for more projects using awesome 100 Proof Press stamps!
Now go glue (and stamp) something awesome onto some awesome something!
Maggi 😀