Hi everyone! Maggi here to announce an exciting week of team swapping with the super awesome troop over at 100 Proof Press! 100 Proof Press specializes in funky, cool, awesome rubber stamps and our Alchemists went nuts over them…

All this week we'll be showing off our projects using their stamps and their fine team will be sharing what they created with Gauche Alchemy what nots so be sure to hit us up here and stalk the 100 Proof Press blog for more projects than you can shake a glue stick at!
What's more, you can use the code: 100PROOFPRESS10 in the Gauche Alchemy store for 10% off! (excludes gift certificates and monthly kit subscriptions)
First up is Alchemist Lori!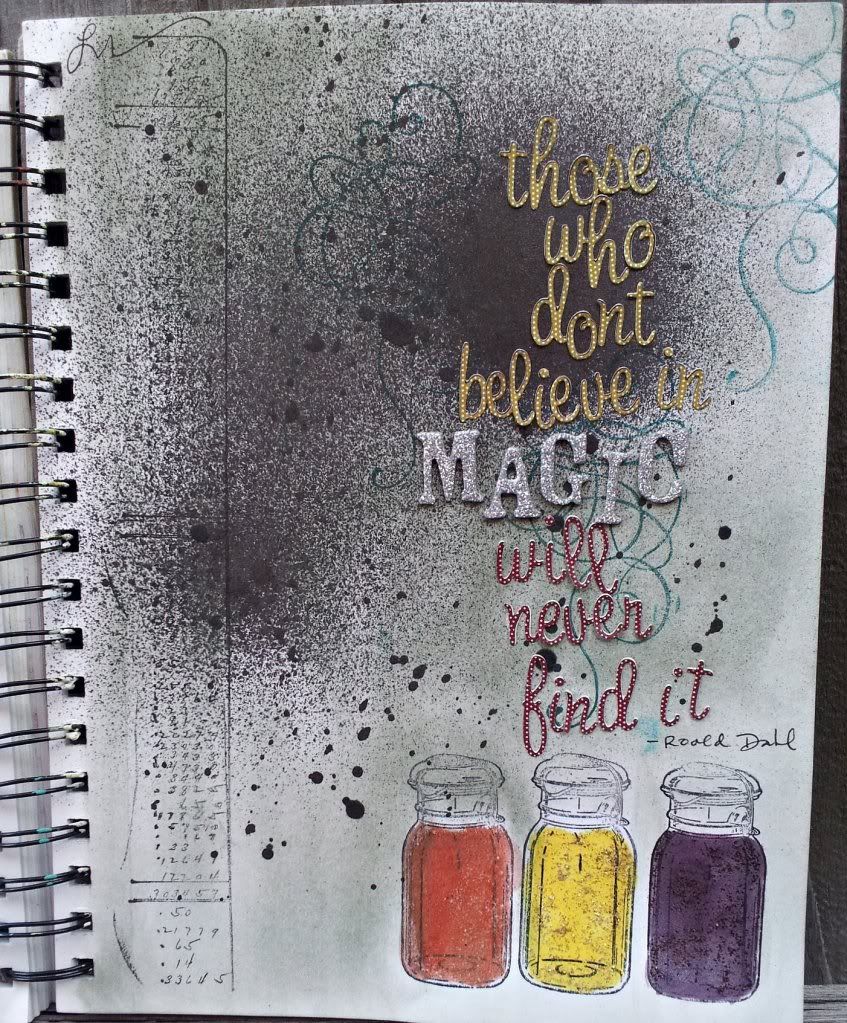 I loved the stamps I chose from 100proof press. Most of them can be used a backgrounds…especially that number ledger! eep! That one made my heart go pitter patter!
I just got my Color Shine spray inks and couldn't wait to play! The black velvet is just sprayed on and the other mists are painted on with a small paintbrush. I also used the squiggle stamp on the background. As soon as I saw the mason jar stamp, I pictured it holding something sparkly and magical. I find that quotes often have a way of saying just what I want to hear and what I can't quite put into my own words.
And we also have this fantastic layout from Alchemist Peg!
OMG these stamps were divine! such gorgeous images and quality rubber. I had so much fun playing with them. For this layout I have used the little bird and feather stamps straight on the background with black ink, as well as with hot-set powder and glitter for embellishments. Teamed with findings from a Gauche Alchemy Banana Hammock Mixed Media Colour Kit, some mists, Glimmer Glam, and ink, I'm pretty happy with the result. I reckon the 100 Proof Press will be my go-to for stamps for a while now!
We've gotten off to a great start, be sure to check us out tomorrow for more projects using awesome 100 Proof Press stamps!
Now go glue (and stamp) something awesome onto some awesome something!
Maggi 😀