Posted on
September 7th, 2012
by admin
Happy Friday! Scraps, here, to show you how to make your leftover wine corks (or new ones) into fun and funky stamps.
The important thing to keep in mind about cork stamps is the nature of cork, itself. Cork isn't naturally smooth, it's got this awesome texture in the fiber of its very being and if you work with that you can end up with a pretty amazing effect in your design. The other thing to remember is that same nifty texture comes from a relatively crumbly medium—super-fine lines are better suited for other surfaces.
Those two caveats out of the way, let's get started!
Rolling Stamp
Corks, being cylinders, make great border stamps. Once you get them good and inked up you can just roll them right along.
You'll need:
1 Wine Cork, preferably new
Pen
Stamp-carving Tools or a Craft Knife
2 Toothpicks or Skewers
Small Hand Drill (optional)
Inks and Paper
1. Sketch your design onto the cork and decide if you want to print the image itself or the negative space around it.
2. Remove the parts of the cork you don't want to show up in the final image. Work from the inside of the design out to avoid collapsing fragile stamp lines. Unlike stamp rubber, you'll need to cut straight down into the cork along all sides and then pry the cut section out. You want to go at least 1/8-inch deep to get a clean image.
Tip: If you're removing a large section of cork, break it up into smaller areas rather than trying to remove it all at once.
3. Press the toothpicks or skewers into the ends of the cork to form a handle—a small hand drill can make this easier.
4. Ink it up and roll it over your paper to see how it turned out. Because of the porous nature of cork (they use it in coasters for a reason!) pigment inks may yield better results than dye-based inks.
Scatter Stamps
Don't forget about the end of the cork! If you want a small, self-mounted stamp for a monogram or other small detail just under an inch in diameter, this is the perfect canvas. Follow the same procedure as above, minus the handles, and you're good to go!
Tip: When creating letter or word stamps, remember to reverse them so that they'll stamp in the correct orientation!
And, with those two stamps I made above (which can be made with the tools and supplies in our new Stamp Vamp TechniKit), some iridescent punchinella and a leaf sprig from the Envy Green mixed media color kit, I made this card.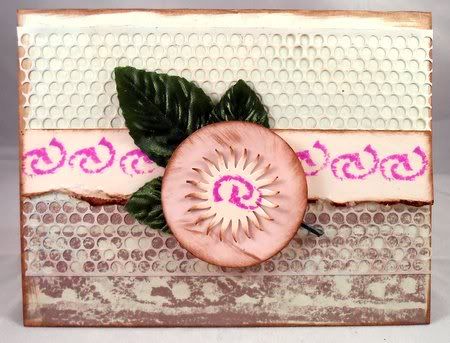 Happy Crafting!
~Scraps
Filed under: design team, diy, Kits