Hi! Ashli Oliver (soapHOUSEmama) here from Purple Mailbox. I am thrilled to join you this month and share what I created with the amazing ACME kit. Yes, I was excited when I received the invitation to Guest Design this month. But, when this gorgeous package came in the mail…I was OVER. THE. MOON! Seriously! Look at all this fun stuff:
After drooling over the above items for a bit, I pulled my MOST favorite goodies and some photo possibilities:
The best thing about this kit are all the unexpected materials. Most of the things included were things I wouldn't normally think to include on my layouts. I love that! Why? Because it stretches me. And that is always a good thing!
First up, a napkin. Yep, napkin. I shred and collage strips onto a sheet of white textured card stock using Gesso. YAY! Fun!
Punchinella? Why, yes… don't mind if I do. Let's mist it… Gorgeousness!
Alrighty, now for some contrast and dimension. After perusing my stamps, I grab two Amy Tan sets. All stamped up!
Now for a bit of drippage. Tattered angels glimmer mist applied + paper held up = drips happening!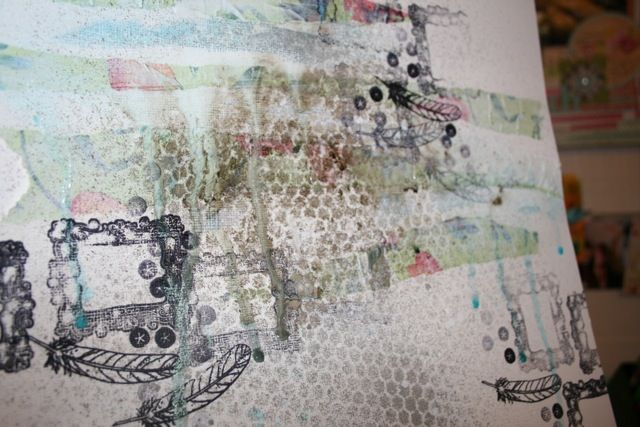 OK, moving on to that gorgeous turquoise lace, layering up and stapling on:
Remember all the fun little trinkets that came with this kit? Let's stitch them on! At first glance, I am beyond amazed that the letters included happen to be the first initials of my kiddos! Then, I find an O and realize that the kit includes these letters so that you can spell "love." LOL! Nice coincidence though
Love the texture this creates when hand stitched together:
Okie Dokie! Now, I have grabbed some scraps from the ole stash… time to layer under my chosen photo…After that is done, some journaling, a title, and pen lines finish it off: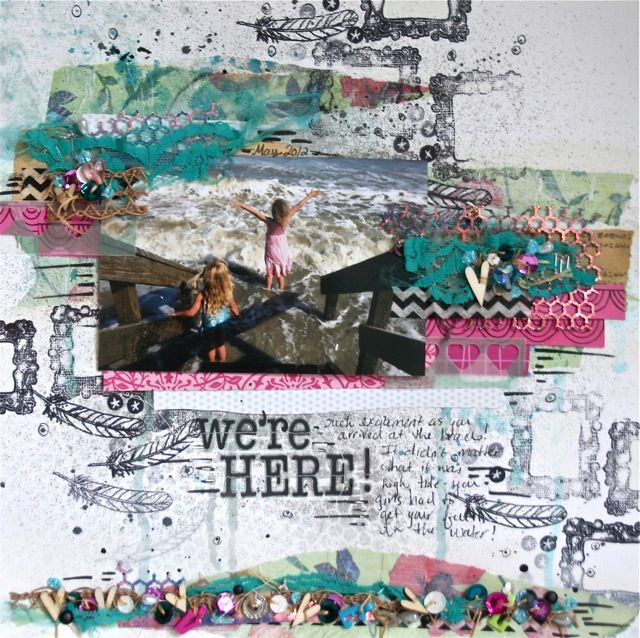 We're HERE! My first layout completed using the fab goodies from the ACME kit. That, my friends, was fun! Oh, yes… there is a lot more where that came from. I am just gettin' started with this kit!