Posted on
July 2nd, 2012
by admin
Good Morning!  Marilyn here with more fabulous art journal pages from Alchemist Lori.  Today,we'll take a look at the awesome two-page spread she has created for our viewing pleasure.  So, without further ado or to-do, here's Lori.
*********************************************************************************************
I know these art journal pages are super crazy and busy and colorful, but to be honest, so is my life right now!!  The words, "just be" are my mantra….I have to remind myself of that sometimes. 
I have told you about my love affair with punchinella, right?  Of course I have.
 On this spread I used several different punchinella shapes (small circles, big circles, stars, and grid) as masks or stencils.  I just love the texture they add.  I also totally dig that grid shape and decided to not only use it as a screen with my Glimmer Mist Red Velvet spray, but as an element to tie both sides of the journal together.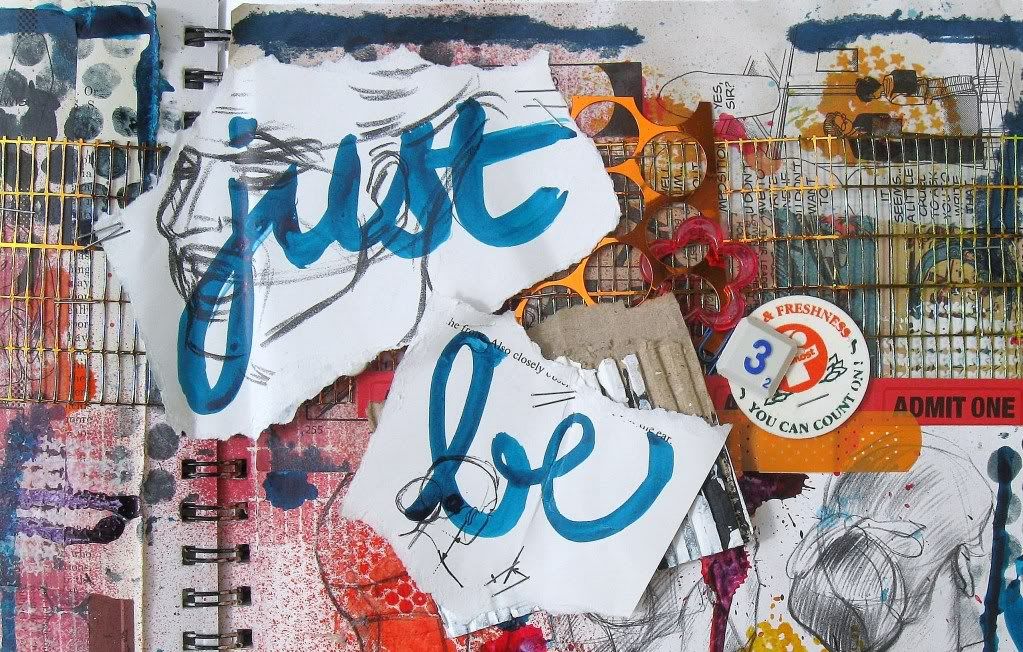 For my background, I used papers from the Foreign Text and Acme kits, gluing everything down with Collage Pauge.  I loved that I found a bunch of papers with drawings and comics on them which gave me a more unified background.  As always, when I need some doodads and accoutrements to add dimension, I head right for my Mixed Media Color Kits.  For this layout, I used elements from the Lady Marmalade Orange, Blue Streak, Scarlet Fever, and Pink Parts kits along with a little of the ouchless cardboard.
The "just be" was done on torn pieces of paper and written in Liquitex Turquoise Deep ink using a paintbrush.  I then used Misty Huey Spray Mists in Sunshine, Passport, and Sunset along with some of Dr. Ph.Martin's Bombay India Ink in Tangerine, Red, and Violet, for that perfect touch of color.  I always love experimenting in my art journal and can make it as crazy colorful as I want!
Now that I have a stash of washi tape, I can't bring myself to not include it on a project! (I don't want it to feel sad and neglected!)  Here, I used the brown washi and the bird cage washi from the Brown Combo pack and the lady silhouette washi from the Quilting Bee Combo pack.
Now, it's your turn……..you go get messy too!

*********************************************************************************************
Amazing!  Lori you have worked wonders with your creativeness.  Your journal page is a knock-out and I love the different colors, papers, and embellishments you used.  Folks, I don't know about you, but this makes me want to pick up my journal and get to work!
Until later……………….
Smiles~
Marilyn
Filed under: Art Journal, design team, Kits, Mixed Media