Posted on
June 19th, 2012
by admin
Good Morning!  Marilyn here with more awesomeness from Alchemist Michelle.  Today, she shows us another of her painted layouts, this one done in wonderful watercolors.  Quick question for you………have you noticed something????  Yes!  Michelle is the QUEEN of bright and happy!  So without further ado to to-do, here's she is to tell how she does it.
********************************************************************************************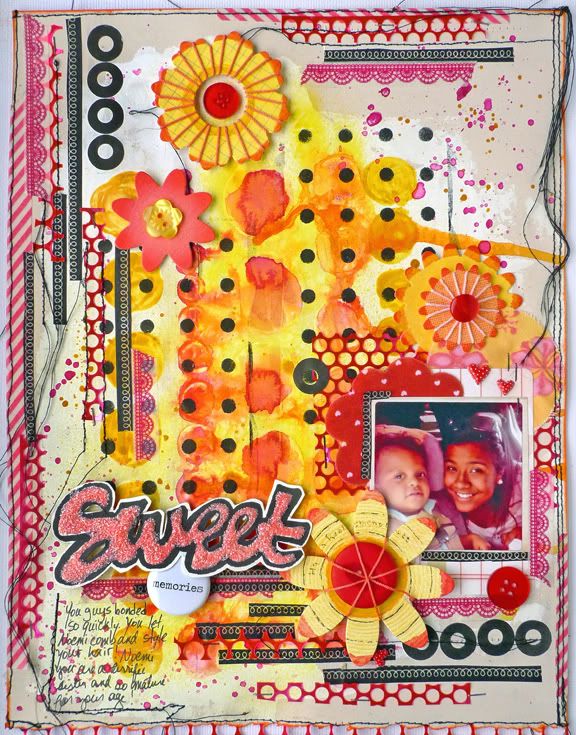 This page began as an experiment in using watercolor paints; then I decided I liked it so much I added some washi, punchinella, Sassafras Lass button flowers, and a photo.  The hand-made title is from Keandra Perkins Willis.  There was a slight delay in finishing as I had to stop for 2 days while I looked for a photo that either matched the color or contrasted off it.  The page is abstract, so I wanted something really simple and personal.  Found it!  In went a photo of my niece who has "the touch" when it comes to fussy kids – wish I could bottle her skill and sell it!
First, I started with gesso on gray water color paper.  I then used a circle stencil to give the background some texture and let it dry. Next came canary yellow watercolor paints which I misted with water until I saw some nice blending effects happening.  At some point I sprinkled some large grain table salt over the page which is supposed to spread the color out but NOTHING HAPPENED!  Was the water color paint already dry??? Not sure. I'll have to try it again later.
I then added magenta circles over the yellow and liked how they were turning orange where the water was pooling – it was a funky sunset effect!  I was going to stop right then and there but I liked the page so much I decided to use it as a background for a scrapbook project.  Black chalk stencil dots went on top.  Thinking the page needed some "grounding" (whatever THAT means – it was 1:00 am!), I brought out the big guns – black washi tape, page protectors I colored black using Prima chalk ink (loooove!), and neon pink punchinella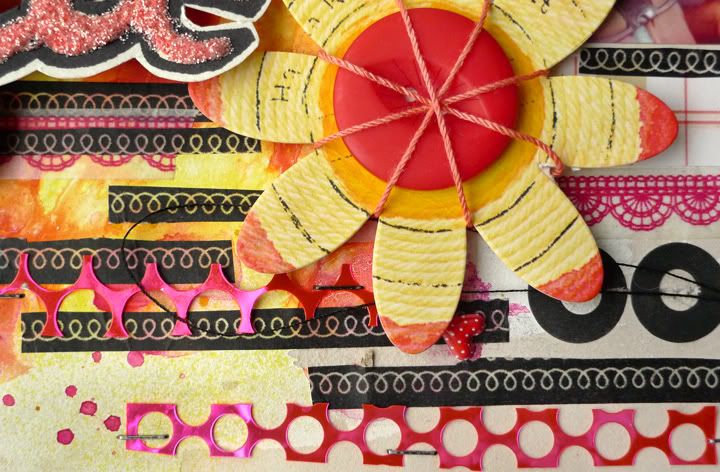 This is a close up of the layering I did with the washi tape.  I really respond to this motif and I've been repeating it on each page ever since I got my hands on some of those amazing GA tape bundles.  On this page, I used the magenta scallop washi tape from the Lace Scallop Combo Pack and the black doodle print washi from the black color pack.
This was one of those times I just wrote down the first thing that came into my head – the journaling could have been more introspective but at least I got the basic idea down.  This was more about having fun than recording any kind of memory.
********************************************************************************************
Bravo Michelle!  Bright, happy, cheerful, and all happening at 1:00 am…..don't know how you do it, but we are so glad you do.  Thank you for once again bringing sunshine onto our computer screens and happiness into our hearts (aaawwwww).
Until later………..
Smiles~
Marilyn
Filed under: design team, inspiration, Mixed Media, Scrapbooking, Uncategorized