Happy Friday! Scraps, here, with the results of a challenge I put forth to the ladies of Gauche Alchemy.
It all started with a piece from NPR on a high school student who made her prom dress outta–of all things–cardboard! Of course this made me think of our own Ouchless Cardboard and, then, of how awesome it would be to make a dress completely out of Gauche supplies.
Luckily, some of my fellow Alchemists were just as excited as I was at the prospect, and today you get to see what we came up with!
The "rules" were pretty simple. Dress a doll with supplies from the Gauche Alchemy store. To make it more interesting, we limited the use of fabrics (otherwise, where's the challenge, right?) to 10% of the finished outfits. Are you ready for the fabulously Gauche fashion show?
——————–
First up we have Pretty. Pretty comes to us courtesy of Alchemist Jo and began life as just one of scads of decorative jewelry mannequins destined for bedrooms of the uninspired, only to be end up in a thrift store some undetermined time later. Jo, however, knowing she was destined to be so much more, rescued Pretty from the clutches of thoughtless consumerism and transformed her into the dark and mysterious pretty princess queen she is!
Pretty is dressed in black gesso, a Paper Napkin off-the-shoulder gown, with black paper underskirt, filmstrip belt and an iridescent rectangle PVC punchinella over-skirt. Her accessories are courtesy of the Banana Hammock Yellow and Black Out Mixed Media color kits. Our Pretty is erudite, as well, borrowing a quote from Kate Halverson: "If you are all wrapped up in yourself, you are overdressed."
——————–
Next up we have my own entry, Polly. Like Pretty, Polly began life as something entirely different: a story-book "collectible" doll. Polly got tired of always being warned away from the fire and ran away from her abusive home to join the circus. Now she spends her nights walking the tight-rope in front of hundreds, far below. She's happily engaged to one of the clowns, though no one's supposed to know, just yet!
Polly is sporting an under-dress of pink and black gingham washi tape, with tights made from pink heart punchinella and a tutu of magenta and orange punchinellas. Her accessories (from the umbrella in her hand to the cape around her shoulders) come from the Pink Parts and Lady Marmalade Orange Mixed Media Color Kits, and with her headpiece constructed on a base of magenta lace.
——————–
A circus friend of Polly's, Freda (aka Freak-Show Freda) comes to us from the mind and hands of Alchemist Misty! Freda is no stranger to stares, but she takes it as her due for being so uniquely awesome. Growing up around circus-folk, she thinks she's the normal one–everyone else is strange (read as boring)–and enjoyed scaring the mundies in her side-show act.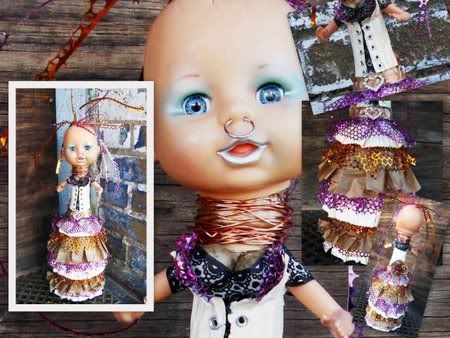 Just like her life, Freda's costume has a lot going on! She's got black lace washi tape to thank for holding in her buxom bosoms, along with an Ouchless Cardboard-and-eyelet corset topped off with a gold washi tape belt. Her skirt is made up of many layers of more Ouchless Cardboard, and orange, pink, and magenta punchinella interspersed with up-cycled packing paper ruffles edged with postage stamp scissors from the Going Postal Mail Art kit.
——————–
Then we have Larue, a Blythe doll from the collection of Gauche Mama Maggi–the only one of us who went with a removable outfit for her dolly. Of course, if I were dressing a Blythe doll, I'd make sure it was removable, too! Larue was spotted sporting this adorable monster mini while out on her afternoon walk, heedless of the impending rain. Would that my hair would stay that straight on a high-humidity day! (How does she do it?!)
Larue's dress is based on a pattern from Puchi Collective and made of the versatile Ouchless Cardboard that is really making the rounds on this runway, this time painted a pale peach and misted for that extra touch. A washi tape band sits just above the darling punchinella tutu–because "what goes better with a monster than a tutu?" Nothing I can think of!
——————–
Finally, to end our show, we have Flora, the creation of Alchemist Mary. Inspired by the bellflower, Flora was made from the ground up out of a paper mache cone, styrofoam ball and some paper clay–not to mention a healthy dose of ingenuity!
Her petal-perfect dress is fashioned from Acme-kit sheet music and washi tape arranged on a cardboard base. Stitched ephemera, sequins from the Wedding Night White Mixed Media Color Kit,  and pink punchinella completed the outfit, along with wings of Ouchless Cardboard.
——————–
Now, of course, we have to know: which dolly is your favorite? Leave your vote for Pretty, Polly, Freda, Larue or Flora in the comments! And if you've been inspired to make your own Gauche-tastic dress-up dolly, let us know that, too! (Pictures or it didn't happen!)
~Scraps